After more than 4 years of intensive research and developments, the KEROGREEN project entered its final phase....Project partners have been really happy to present their achievements in the frame of a final event, organised on the 27th of September 2022 at KIT Campus North (near Karlsruhe, Germany) - also accessible online.
Beside the presentation of project results (including the KEROGREEN integrated system, built directly at KIT - IMVT), invited keynote speakers presented their current activities and discussed with us the challenges in the sustainable aviation fuel synthesis, with a focus on both Power-to-X enabling technology and the plasma technology.
Finally, participants had the opportunity to take part in a guided visit of the KIT Energy Lab 2.0 (on-site visit).
See detailed agenda here.
The event received a high interest, especially from the local press and media (e.g. radio SWR4 & BR24 and TV Baden TV). See official press release. A recorded interview (in German) with Prof. Pfeifer from KIT IMVT on KEROGREEN and its advantages is also available in open access on the KIT Open Repository.
Some impressions: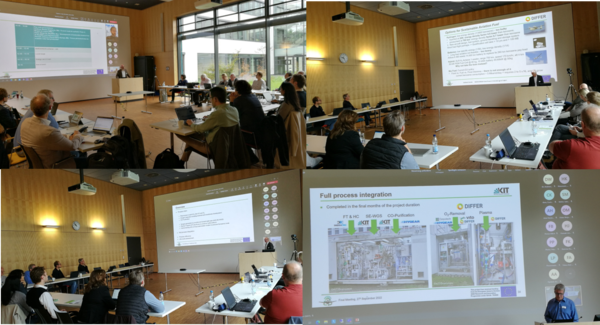 Access to presentations:
Overview presentation of KEROGREEN by A. Goede
Details on KEROGREEN results by S. Welzel & P. Pfeifer
Presentation of Toyota's research in the field by H. Johnson